Get Involved
Dedicated to protecting Florida Scrub-Jays, our state's only endemic bird species.
Audubon Florida coordinates the Jay Watch citizen science program statewide. We train and support volunteers to conduct scientific surveys that measure annual nesting success and count the total number of Florida Scrub-Jays at more than 46 sites in 19 counties. The success of the Jay Watch program, and the program's contributions to the recovery of Florida Scrub-Jays, depends upon dedicated volunteer citizen scientists like you, your family, and your friends.
Remarkably, in just 2017 alone, 267 volunteers invested over 2,600 hours sharpening their skills in onsite trainings and performing field surveys across the state.
Florida Scrub-Jays: Nowhere Else on Earth
The Florida Scrub-Jay is our state's only endemic bird species, found nowhere else in the world. It was listed as federally Threatened by the U.S. Fish and Wildlife Service (USFWS) under the Endangered Species Act in 1987, largely due to loss of its native scrub habitat and decades of fire suppression that allowed the scrub to become overgrown and unsuitable for Scrub-Jays. While mowing of too-tall oak scrub can open bare sand patches needed by the jays for predator detection and for caching acorns, fire is still needed to remove debris left on the ground after mowing. And some of the rarer scrub plants require fire to set seed and reproduce.
Just how threatened are Florida Scrub-Jays?
The state's population of Florida Scrub-Jays is estimated to have declined by 90% since the early 1800s. Between 1993 and 2010 our state's Scrub-Jay population declined another 26%, mostly on public lands where they are generally better protected.
What are you waiting for? Get Involved!
Attend one of our onsite training sessions in 2018, to be held in nine counties across the Florida peninsula. Contact Audubon's Jacqui Sulek for more information about our trainings.
Join a Jay Watch survey team: contact Audubon's Marianne Korosy
Donate to Jay Watch - support a program that directly trains volunteers, supports survey teams, analyzes, and compiles statewide survey data for use by site managers, wildlife agencies, and researchers.
Training Locations and Information:
Trainings include an overview of Florida Scrub-jay behavior and field practice with the Scrub-jay mapping and survey protocol. All trainings are usually held in the mornings and are completed by noon. For more details, please contact Jacqui Sulek at jsulek@audubon.org.
Tuesday, May 7 — Hickey's Creek Mitigation Park and Caloosahatchee Regional Park, Lee County
Thursday, May 9 — Shamrock Park, Sarasota County
Saturday, May 11— Duette Preserve, Manatee County
Saturday, May 11 — Lyonia Preserve, Volusia County
Saturday, May 11 — Allen David Broussard Catfish Creek State Park and FFA Leadership Training Center, Polk County
Saturday, May 18 — Cross Florida Greenway, Marion County
Saturday, June 1 — Royce Ranch/FWC, Highlands County
Saturday, June 8 — Savannas Preserve State Park, St. Lucie County
Advanced training will be held for experienced Jay Watchers only on June 13-14 in Ocala National Forest.
We will hold our Appreciation Event on Saturday, November 23 at the Archbold Biological Station. All Jay Watchers are invited so make sure to mark your calendars!
Jay Watch Reports
Check out the latest Jay Watch reports in the Audubon Florida Publications Library.
How you can help, right now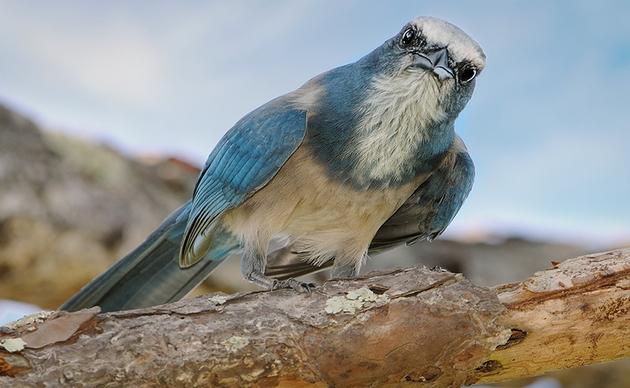 Become a Member of Audubon Florida
Audubon Florida brings people together to appreciate, enjoy, and protect birds and nature. Join now and your $20 membership fee will directly support our conservation efforts throughout Florida.
Volunteers Needed
Florida's birds and wildlife need your time and energy. Learn how you can become a citizen scientist or a volunteer at one of our nature centers today.