Despite efforts to recover the Florida Grasshopper Sparrow, its population continues to decline steeply on the very conservation lands where it should be thriving. Without immediate intervention, the outlook is dire for this diminutive Florida prairie specialist. Suspected reasons for the decline include suboptimal habitat management, fire ants killing flightless chicks, diseases, and genetic problems.
YOU can help! In the next few months, Audubon is partnering with Kissimmee Prairie Preserve State Park (KPPSP) land managers and the Friends of KPPSP to recruit and train citizen scientists in a new sparrow habitat improvement project.
WHAT: Within 2-3 weeks following a prescribed burn, before vegetation grows back, volunteers will walk through the burned prairies along pre-determined routes, or transects, recording GPS locations of every visible fire ant mound within 25 meters of the transect line and treating the mound with a fire ant pesticide (see photo with visible fire ant mound). A variety of transect lengths can be selected by volunteers to accommodate those who prefer walking shorter or longer distances, nearer or farther from the road and vehicles. The work will be done early in the morning or late in the afternoon when cooler temperatures prevail.
PROVIDED: Volunteers will receive free overnight camping at beautiful Kissimmee Prairie Preserve on a first-come, first serve basis. Transportation will be provided to and from each work site in 4WD vehicles (volunteers owning same may be able to drive their own vehicle into the Preserve exclusively for this project work). Volunteers will be provided with GPS units or may choose to use their own. The fire ant pesticide and applicator will be provided on site together with instructions on proper use.
WHO: Up to 10 teams of 2 people per team can be deployed at one time. Volunteers must provide their own water, food, and sun protection for the duration of field work. Volunteers must be physically capable of walking over uneven terrain for a minimum distance of 1500 feet carrying personal supplies and some equipment such as a clipboard, hand-held GPS, or a pesticide applicator. Biting insects may be present particularly in warmer months. Walking through recently burned areas will leave soot marks on clothing so old or easily washable clothing is desirable. Closed-toed shoes are required; long pants are recommended for leg protection.
WHEN: Interested volunteers must RSVP to be placed on a contact list. A notice will be distributed to the list of prospective volunteers each time a new prairie area burn is completed in the spring and summer months of 2013. If successful the project may continue into the fall and winter months. When a notice is distributed to the list, the work must be completed within 2-3 weeks before vegetation growth reduces the visibility of the fire ant mounds and the project loses its most effective time window.
Note: U.S. Fish and Wildlife Service experts have carefully reviewed the planned use of pesticides and believe it presents negligible if any increased risk to Florida Grasshopper Sparrows, while helping eliminate a suspected threat to the species' existence.
Please join us at one of Florida's most remote and beautiful preserves and home to a sparrow found nowhere else in the world! While you're out there working you might just hear a Florida Grasshopper Sparrow singing or see one of the many other residents - Bachman's Sparrow, Eastern Meadowlark, White-tailed Kite, Burrowing Owl, Crested Caracara, and many others!
Contact Marianne Korosy at <mkorosy@audubon.org> for more information and to sign up for this limited time opportunity.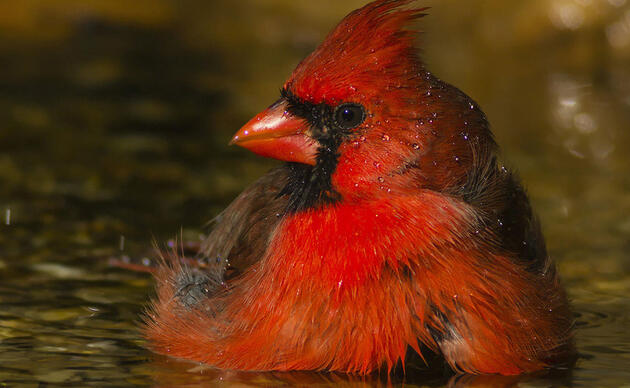 Stay in Touch!
Show your love of birds today. Subscribe to receive email updates about Audubon's conservation work and hear about opportunities to help birds in your area or nationwide.