Disney has always had a presence at the Audubon Center for Birds of Prey in Maitland, Florida. They have sponsored Audubon's thriving EagleWatch program – headquartered at the Center – for many years, and the Center itself for almost a decade. Their name is displayed on the Eagle Flight Barn, the setting for the critical final stages of an eagle's rehabilitation, as one of the principal sponsors making the building possible. But today, Disney was present at the Center for Birds of Prey in more than just name.
Thirty members of Disney's VoluntEARS network visited the Center last week, filling the crisp fall air with the sounds of shovels, hedge clippers, paint brushes, sanders, and electric drills. VoluntEARS, a charitable program made up of Disney cast members, was created in 1992. Since then they have donated millions of dollars and hundreds of thousands of volunteer hours to worthy organizations in Central Florida.
Against a suitable Veterans' Day backdrop of magnificent Bald Eagles perching on their handlers' arms or turning a curious eye to the day's proceedings, the VoluntEARS made quick work of spiffing up the grounds and making some much-needed repairs to the rehabilitation clinic. Smiling workers trimmed the hedges lining 1101 Audubon Way, lent practiced hands to landscaping upgrades, and even got critical appliances working that had been out of service for years. They made improvements to the chalk wall that gives young visitors to the Center a place to draw pictures of the amazing raptors they see in the surrounding enclosures. They swept sidewalks, tightened gates and fixtures, and made major improvements to air conditioning and bathroom facilities.
Our only question is: Is there anything a VoluntEAR can't do? Fortunately for Audubon, it appears the Disney cast members are up for any kind of job. Fortunate, too, for the avian patients at the Audubon Center for Birds of Prey, who finally got to meet some of the people who have made their recovery and release back into the wild a reality.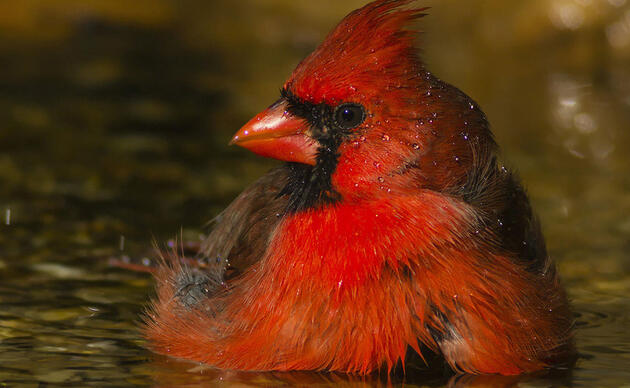 Stay in Touch!
Show your love of birds today. Subscribe to receive email updates about Audubon's conservation work and hear about opportunities to help birds in your area or nationwide.