The Audubon Center for Birds of Prey is a wonderful place. The volunteers, interns, and staff play an integral role in the health of Florida's raptors, returning dozens of birds each year to our skies. The following is a blog post from the Center's new education intern, Rosemary Jensen. We don't doubt you will enjoy learning how the Center is changing the way she looks at Florida's wildlife. Enjoy!
From presentations to conversations, I have learned so much as the new Education Intern here at the Audubon Center for Birds of Prey. The staff and volunteer crew have taught me a lot, but I also learned from the guests. From them I have learned about the reintroduction of Osprey in Europe and the story of the two Peregrine Falcons, Scarlet and Rhett. It's great news to hear that many people have these wild avian neighbors in their backyards or at their schools. It's even better news to hear how they are helping them or how they want to help, especially from the children. For conserving wildlife and their habitats, I feel that education is an important role that many may not know.
It's about reconnecting people to nature.
On my first day I went on a Bald Eagle release with Matt and Sam J. It was magnificent! I don't remember how much that eagle went through, but it is still heart lifting to see the eagle fly in the wind gliding towards the forest and lake. I would be so excited and nervous if I was that eagle.
Participating in Raptor Camp has shown me the coordination and planning that takes place behind the scenes. It has also shown all of the effort that we put into the day to day production of Camp. It's fun showing the children what nature has to offer and teaching them about birds of prey. The most satisfying part is seeing the light bulb go off and see them further their quest for knowledge. Thanks to raptor camp and the staff, I have learned more in depth about the resident non-releasable birds. During lunch each day a couple of campers and I have quizzed each other on the birds.
I have learned more about how the Center rehabilitates the patients as well. Each bird has it's own personality. It may sound obvious, but it still goes unnoticed. Since I have been volunteering here for almost a year, I have gotten to know the residents not only by their story, but their own individual personality. I am still learning and I feel that is a whole new learning experience in itself.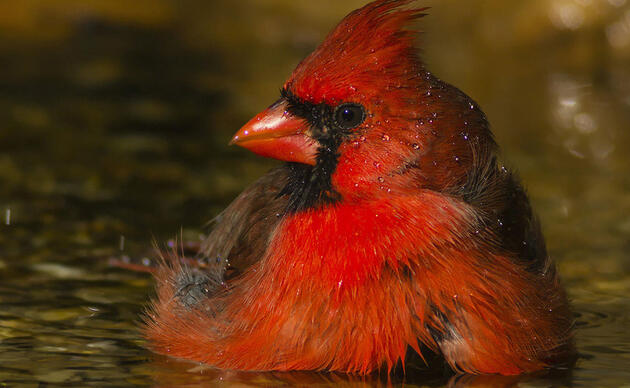 Stay in Touch!
Show your love of birds today. Subscribe to receive email updates about Audubon's conservation work and hear about opportunities to help birds in your area or nationwide.