Birds
Florida's Imperiled Birds
Florida is home to several species of colonially nesting wading birds like egrets and herons, as well as beach-nesters like terns and plovers.
Double-crested Cormorant - Tampa Bay populations have declined recently from 650 pairs to 450 pairs. Cormorants nest early in the year, and our mid-spring census activities may miss some late winter nesting activity.
Anhinga - About 200-300 pairs of Anhingas breed in coastal west-central Florida, with the largest colony at Alligator Lake in Safety Harbor. Anhingas are generally freshwater nesters; coastal colonies are relatively few.
Brown Pelican - About 9000-10,000 pairs nest annually in Florida. Of these, approximately 20% nest in the Tampa Bay system. Brown Pelicans nationwide were affected by DDT accumulations which caused eggshell thinning, but populations have generally recovered as the environment has "cleaned up" and the Endangered Species Act protection has borne fruit (or in this case, pelicans). Florida pelicans were not as deeply affected by DDT as pelicans in Louisiana, where they became locally extinct. Reintroductions with Florida stock were successful, and Louisiana pelicans now number over 15,000 pairs.
Everglade Snail Kite - The success of the federally listed endangered Everglade Snail Kite (Kite) is a key ecological indicator for the health of the Greater Everglades. As Kite research crews continue to monitor the few remaining nests throughout the Everglades ecosystem, very rough estimates of nesting success for the 2011 season have been tallied. Kites appear to have had more success this year in the Lake Tohopekeliga (Toho) region, where exotic vegetation (hydrilla) and the exotic apple snails have displaced the native flora and fauna.
Great Blue Heron - Generally the Great Blue Heron population seems stable in the Tampa Bay area at about 300 pairs.
Snowy Egret - Like all the other small herons, Snowy Egrets are listed by the Wildlife Commission as "species of special concern" due to declining populations. Loss of wetland foraging habitat is a factor in the population declines. About 800-1000 pairs nest in the Tampa Bay area each year.
Little Blue Heron - The Tampa Bay nesting population seems generally stable for now at about 300 pairs. Since this species primarily forages in freshwater habitats, it is vulnerable to the continuing alteration of wetlands caused by development inland.
Tricolored Heron - This species has declined in population in the last 20 years. About 500-700 pairs nest in the Tampa Bay area annually.
Great Egret - About 500-800 pairs of Great Egrets nest annually in the Tampa Bay region. In 1998, a larger-than-usual number of Great Egrets nested (875 pairs), as El Niño rains filled wetlands to the brim just before a strong spring dry down, concentrating fish prey and making it relatively easy for Great Egrets to find food for growing nestlings.
Florida Grasshopper Sparrow - The Florida Grasshopper Sparrow is a federally endangered bird found nowhere else in the world. Despite public land managers' efforts to recover the bird, its population continues to decline steeply on the very lands where it should be thriving. Without immediate intervention, the outlook is dire for this diminutive Florida prairie specialist.
Cattle Egret - Florida's most abundant heron, with about 5000 pairs nesting in Tampa Bay colonies. Because this species nests later than the other herons, it may be undercounted in our surveys.
Reddish Egret - Eliminated from Florida by the plume-hunters by the late 1800s, Reddish Egrets finally returned naturally to Tampa Bay in 1974. Since then, the number of nesting pairs has slowly climbed to 60-75 pairs, about 20% of Florida's population. This species is the rarest heron in North America.
Green Heron - While Green Herons will nest in colonies, they are not strictly colonial, so they are not accurately censused by colony surveys. Little information about Green Heron nesting is available.
Black-crowned Night-Heron - About 200-500 pairs are estimated in Tampa Bay, but because this species forages at night it is difficult to census during the day. Black-crowns are probably declining in Florida over the last 20 years.
Yellow-crowned Night Heron - Another difficult-to-census species, Yellow-crowns often nest in small mainland colonies that are not detected. The true population number and trend are not known.
White Ibis - About 6000-11,000 nest in the Tampa Bay area, with a remarkable increase in 1998 to 17,000, when El Niño recharged wetlands just prior to a strong dry down that began just as eggs hatched. White Ibis have declined locally by about two-thirds since the 1940s, due to loss of wetlands and wet pastures. Even so, the Alafia Bank nesting population remains one of the largest in Florida.
Glossy Ibis - First recorded nesting in Tampa Bay at Alafia Bank in 1969. Glossy Ibis are primarily freshwater habitat feeders, with about 400-600 pairs nesting in Tampa Bay colonies, or 10% of Florida's population.
Roseate Spoonbill - Lost from Tampa Bay by 1900 due to hunting pressure (spoonbill wings were made into fans for sale to tourists), but rediscovered nesting again here at Alafia Bank in 1975. About 15% of Florida's population now nests in Tampa Bay, mostly at Alafia Bank (145 nests in spring 2000). Report a banded Roseate Spoonbill by clicking here!
Wood Stork -- This endangered species nests in only one coastal colony in Tampa Bay, the Dot-Dash colony at the mouth of the Braden River. About 100 pairs nest annually, with 140 in 2000. In 1994, the colony was abandoned, reportedly due to disturbance by personal watercraft.
Wilson's Plover - More common than the Snowy Plover and slightly more flexible in its habitat requirements, but rarely surveyed in Tampa Bay. Wilson's Plovers inhabit barrier island sand dunes, spoil islands, and salt barrens. The Tampa Bay population is unknown, but may exceed 100 pairs.
Snowy Plover - This plover only nests on white sandy barrier beaches, near passes and intertidal sand flats, where it is highly vulnerable to human disturbance. With no more than 10 pairs estimated for Florida's west central coast, this species is near to local extinction.
Willet - Willets breed in high marshes along islands and beaches and are very difficult to census. The local population size is unknown; a very rough "guesstimate" is 100 pairs. This species is on the Audubon/Partners in Flight WatchList.
American Oystercatcher - The Tampa Bay contingent of about 130 pairs is roughly 40% of the state population. Highly vulnerable to disturbance during nesting. Pairs nesting in Clearwater Harbor and St. Joseph Sound, in Pinellas County, may act as a population "sink" due to chronic disturbance and nesting failure.
Laughing Gull - A sharp breeding population decline has occurred in the Tampa Bay area since the 1980s when 50,000 pairs nested here. The local population now numbers approximately 20,000 pairs. Factors may include reduced food supply due to improved garbage disposal, and predation by raccoons and possibly red imported fire ants. Interestingly enough, 70-80% of Florida's Laughing Gulls nest in the Tampa Bay area.
Gull-billed Tern - These terns are very rare and difficult to find in Tampa Bay, occasionally nesting with Black Skimmers but otherwise choosing desolate mud flats as nesting sites. 0-10 pairs have been found annually in Tampa Bay over the last 20 years.
Least Tern - About 350 pairs were censused in Tampa Bay colonies this year, but colonies move frequently and are hard to locate. In addition, Least Terns now nest readily on flat, gravel-covered rooftops, where they may avoid detection by surveyors. Highly vulnerable to disturbance by humans and pets, Least Terns are listed as Threatened by the Wildlife Commission.
Caspian Tern - Caspian Terns nest in only three colonies in Florida. The two colonies in the Tampa Bay area total about 110 pairs out of the current statewide population of 260.
Royal Tern - Three colonies in Tampa Bay totaled over 3300 Royal Terns in spring 2000, about 75% of the Florida population. Numbers have slowly increased over the past ten years due to careful protection at the local nesting colonies.
Sandwich Tern - Sandwich Terns nest with Royal Terns, with over 525 pairs nesting in Tampa Bay, 95% of the state population. In the early 1980s, the known population was less than 20 pairs.
Black Skimmer - In 2000, about 1000 pairs nested in west-central coastal Florida, about 50% of the state population. Ground nesters at the high tide line on beaches, skimmers are very vulnerable to loss of eggs and young from storms, high tides, and human disturbance.
How you can help, right now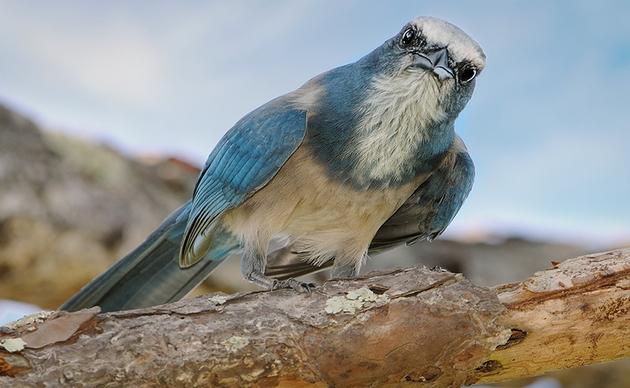 Become a Member of Audubon Florida
Audubon Florida brings people together to appreciate, enjoy, and protect birds and nature. Join now and your $20 membership fee will directly support our conservation efforts throughout Florida.
Volunteers Needed
Florida's birds and wildlife need your time and energy. Learn how you can become a citizen scientist or a volunteer at one of our nature centers today.