Relic Florida sand dunes left over from a time when sea levels were much higher are the only place in the world where you can find Florida scrub habitat. This extreme habitat born of the sea and maintained by fire is the only home of the Florida Scrub-Jay. Unfortunately, high, dry and well-drained land is prime habitat for housing subdivisions and orange groves too, and little scrub remains for the jays. The scrub still in existence has been fragmented, and as a result has not enjoyed the renewing effects of fire which keep the habitat healthy. As a result, scrub-jay habitat and scrub-jay numbers are dwindling.
The Florida Scrub-Jay was classified as a Threatened species by the state in 1975, and by the federal government in 1987, but these designations have failed to halt the population decline. By 1993, Florida Scrub-jay populations had declined an estimated 90%, to about 10,000 individuals. Since then, further, severe declines have been documented in some Scrub-jay populations in Brevard County and elsewhere.
Recent land acquisition programs in Florida have targeted most of the privately owned scrublands in the peninsula, such as those along the Lake Wales Ridge in Highlands and Polk counties, along the central Atlantic coast in Brevard County, and in the Wekiva-Ocala Greenway in Lake, Orange, and Seminole counties. Unfortunately, habitat acquisition alone is not sufficient to maintain populations of Florida Scrub-jays; habitat management also is critical. Since most scrub in Florida is heavily overgrown, restoration is necessary to rejuvenate Scrub-jay populations.
Pinellas County Utilities owns and manages a 12,023-acre wellfield and buffer area in north-central Pasco County, known as Cross Bar Ranch Wellfield and Al-Bar Ranch. Al-Bar Ranch contains part of a regionally significant Scrub-jay population that totals at least 21 groups. Overgrown scrub at Al-Bar has caused the resident Scrub-jay groups to move into non-scrub habitats such as gallberry thickets. Because it is doubtful that Florida Scrub-jays can survive outside of oak scrub for many years, Pinellas County has implemented a scrub restoration and management project at Al-Bar Ranch. Virtually every large oak within a designated "Florida Scrub-jay Management Area" was cut down and burned in 1999-2000. The amount of habitat treated exceeds 200 acres, which makes this one of the most extensive projects yet undertaken to restore Florida Scrub-jay habitat. In time, this restoration effort should serve as a model for sites elsewhere in the state.
Audubon Florida is assisting Pinellas County Utilities with the design and implementation of its scrub restoration and management plan at Al-Bar Ranch. Audubon also is mapping Scrub-jay groups onsite and on some adjacent cattle ranches to document the current status of the population as part of a long-term monitoring effort. Assisting Audubon with the Scrub-jay project are Glen Woolfenden and Reed Bowman, two ornithologists at Archbold Biological Station in Lake Placid, and Peacock and Associates of Palm Harbor.
For more information on how you can help protect this important Florida species, please click here.
How you can help, right now
Donate to Audubon
Help secure the future for birds at risk from climate change, habitat loss and other threats. Your support will power our science, education, advocacy and on-the-ground conservation efforts.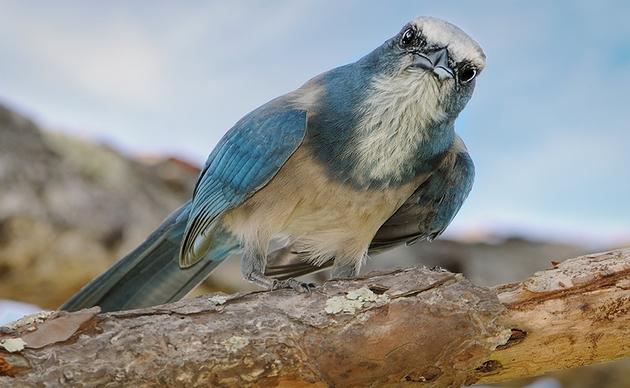 Become a Monthly Donor
Donating monthly is flexible, easy and convenient and makes you a champion birds can count on, no matter the season.
Volunteers Needed
Florida's birds and wildlife need your time and energy. Learn how you can become a citizen scientist or a volunteer at one of our nature centers today.