The Florida Grasshopper Sparrow is a federally endangered bird found nowhere else in the world. Despite public land managers' efforts to recover the bird, its population continues to decline steeply on the very lands where it should be thriving. Without immediate intervention, the outlook is dire for this diminutive Florida prairie specialist.
Audubon and our partners are working frantically to find out why and how to stop this decline.
Audubon's Dr. Paul Gray in the Orlando Sentinel:
"They have wonderful prairie at Three Lakes and Kissimmee Prairie, and they've done great management of it, and yet the sparrow, quite frankly, is crashing. That's the head scratcher: What's wrong?"
A Landscape of Fire and Flowers
Between Orlando and Lake Okeechobee, vast, treeless grasslands once sprawled across the interior of Florida shaped by frequent, lightning-ignited fires. While this landscape of sun and fire would seem inhospitable to wildlife, some species are vitally adapted to survive and thrive in this special place.
Today, Florida's dry prairie is some of our most striking scenery, with waves of flowers blooming over the landscape of greens, tans, and yellows. And under a sweeping prairie sky, at home in this blanket of wildflowers and swaying grasses, one of Florida's most specialized and endangered birds is disappearing forever: the Florida Grasshopper Sparrow. Ironically, the Florida Grasshopper Sparrow is not Endangered because of the harshness of its habitat, but because of the habitat's loss. Scientists estimate that South Florida's grasslands, known as dry prairie, once covered almost three million acres.
In the past 100 years, more than 85% of the dry prairie – a globally imperiled ecosystem comprised of more than 40 plant species per square meter – has been converted to pasturelands and agriculture.
An Endangered Species in Free-Fall
On the tracts where dry prairie remains, the Florida Grasshopper Sparrow is best seen in spring and summer when males perch atop shrubs and sing their grasshopper-like songs to attract a mate. Three of these remaining prairie tracts are on public lands, where close monitoring has revealed an alarming trend: Florida Grasshopper Sparrow populations reached record lows last year, with about 90 singing males detected, down from more than 300 ten years ago. The Avon Park Bombing Range sub-population dropped from about 130 singing males in 1999 to only 10 in 2004. In 2012 only one singing male was detected; it is unknown if a female was there to hear him. The counts of singing males at Kissimmee Prairie declined from 150 a decade ago to only 21 in 2011, to only 14 in 2012. And at Three Lakes Wildlife Management Area, last year's record low of 67 singing males was surpassed this year, with 60 singing males. The populations at Three Lakes Wildlife Management Area and Kissimmee Prairie Preserve State Park now have fewer birds than were recorded at Avon Park prior to its rapid population crash. At these population levels, genetic problems become a major concern.
No Smoking Gun
But why are the sparrows blinking out? Florida Grasshopper Sparrows are extreme habitat specialists; for successful nesting they require treeless dry prairie burned every two years. Some public lands have not been able to keep up with this punishing pace, but even on those where burning is on track, the sparrow continues to decline. Disease, genetic problems, invasive exotic fire ants and other nest predators are all contending hypotheses, but the reality is: no one knows why our public lands are failing these birds.
Rallying the Troops
At an emergency meeting, the Florida Grasshopper Sparrow Working Group outlined a course of action to save this rare subspecies from extinction. The group is comprised of researchers, land managers, and conservationists including the Florida Fish and Wildlife Conservation Commission, the Florida Park Service, the Department of Defense, the U.S. Fish and Wildlife Service, University of Florida, University of Central Florida, Archbold Biological Station, Brevard Zoo, White Oak Conservation Center, and Audubon's Dr. Paul Gray, an expert on the birds and habitat issues of the greater Lake Okeechobee Region. The group's short-term emphasis: Manage the sparrows' habitat to the best standard possible while mounting an intensive research effort examining threats like disease, genetics and fire ants. However, insufficient public funding of land and species management, as well as needed research, are the biggest barriers to saving the Florida Grasshopper Sparrow from extinction.
Audubon's Priorities
Increase land managers' capacity to monitor sparrow populations and conduct controlled burns for habitat health. Audubon will provide funding in 2013 for two staff at Kissimmee Prairie Preserve State Park during the sparrow breeding season. We are calling on the Florida Park Service and FWC to match our financial commitment by funding two other additional temporary staff on their lands, respectively, to assist with prairie-wide habitat management, sparrow, and fire ant surveys. Special protocols to facilitate endangered species burns must be developed.
Advance critical research needed to understand the cause of the sparrow's decline. Audubon is urging funders to support proposals from our academic and research partners to get to the bottom of this prairie mystery. This will include developing a captive breeding program. Audubon will work with Kissimmee Prairie managers to provide citizen science volunteers to conduct fire ant surveys.
Prioritize sparrow habitat on private lands for protection. Audubon encourages the addition of private properties reported to host sparrow populations to the Everglades Headwaters NWR via full-fee acquisition or conservation easements.
The Florida Grasshopper Sparrow Needs YOU
Perhaps the sparrow's biggest challenge? It is dismissed as a "little brown bird" by those neither patient nor attentive enough to recognize the beauty and intricacy of its cryptic plumage and lifestyle. While people rally around the plights of the stunningly-pink Roseate Spoonbill or the pudgy, lumbering manatee, which are easily observed, we can too easily look the other way while the tiny, seldom-seen Florida Grasshopper Sparrow hurtles toward extinction. In short, despite the looming threat to this native bird, the Florida Grasshopper Sparrow is an easy species for decision-makers and land managers to ignore.
Support Audubon: Funds will aid our work to advance surveys, habitat restoration, and land management to benefit the Florida Grasshopper Sparrow.
For more information, please click here to see the Orlando Sentinel's coverage of this incredible Florida bird.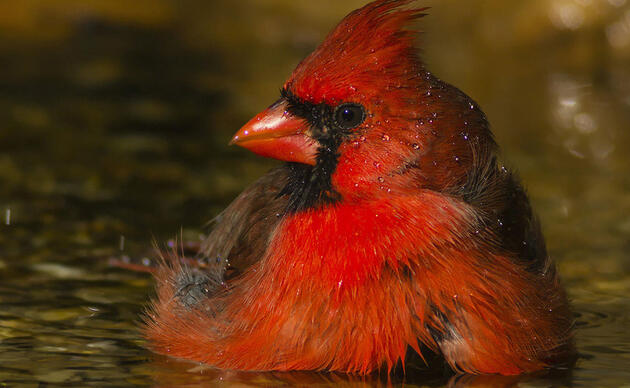 Stay in Touch!
Show your love of birds today. Subscribe to receive email updates about Audubon's conservation work and hear about opportunities to help birds in your area or nationwide.