I climb four stories of stairs with my binoculars to reach the top of a closed parking garage. Morning rush hour traffic from a nearby interstate echoes from the north side of the building, while a quieter shopping mall surrounds the other three sides. Despite the traffic noise, I can still hear the high-pitched, squeaky calls from Least Terns long before I see them.
Setting my binocular sights just above the roof of the mall, I spot the small white birds with black caps flying directly overhead. Dozens bring in fish, hovering over the rooftop before making a quick dive to land and feed their chicks. Watching and listening patiently for several minutes I see an American Oystercatcher – a shy shorebird species - leave the roof, calling and flying in the direction of Tampa Bay. In a moment of drama, Least Terns chase off a potential Fish Crow predator that landed on the parapet of the roof.
As the Rooftop Biologist for the Tampa Bay Region, I spend my workdays during breeding season driving to 92 rooftop sites to monitor nesting activity across five counties. Most of the sites are surveyed from the ground since there are no vantage points for me to see the roof from above. This year proved to be an interesting year, with successful fledging!
Spring and Summer: Birds Arrive, Nesting Begins
I started the 2021 season breeding surveys in mid-March. American Oystercatchers arrived on rooftop territories to scout out their nesting location for the season. Their ideal nesting rooftop includes a gravel substrate, a location that has good sight lines to see predators, no trees nearby that a predator could hide in, and proximity to a source of food and water. American Oystercatchers in Pinellas County usually choose rooftops that are on the Intracoastal Waterway or along the beach because they provide ample foraging opportunities when tides are low. These low tides expose oyster beds - a favorite food and good resource to feed their young.
As March turned to April, I received reports from South Florida that Least Terns had started to arrive. I drove around to historic nesting buildings to check for signs, and by mid-April, they trickled onto roofs and began laying eggs. In less than a month their chicks hatched. Black Skimmers started to nest on gravel rooftops soon after, and then my days became very busy!
The rooftop breeding season moves quickly after the birds arrive. Within a few weeks, chicks hatch and run all over the roof. It's important that I work with building owners and managers in the off-season to get chick-fencing on roofs to prevent vulnerable chicks from going over the side. Sometimes the birds choose to nest on a new roof without protection, so volunteers and I check the site multiple times a day for fallen chicks, carefully returning them to the roof.
Thankfully this year we had a relatively dry April and May, and the birds laid eggs and raised chicks without inclement weather. Gravel roofs are typically on older buildings and heavy rains can cause flooding or water to settle in low areas; eggs are not viable if left in water for too long. Much of the nesting finished before Hurricane Elsa hit, and while many of our local beach-nesting birds experienced effects from storm surge, rooftops did not.
Still, the rooftop colonies are not without threats. Air conditioning repairs on roofs with nesting and predation from Fish Crows and Cooper's Hawks were the biggest challenges this season.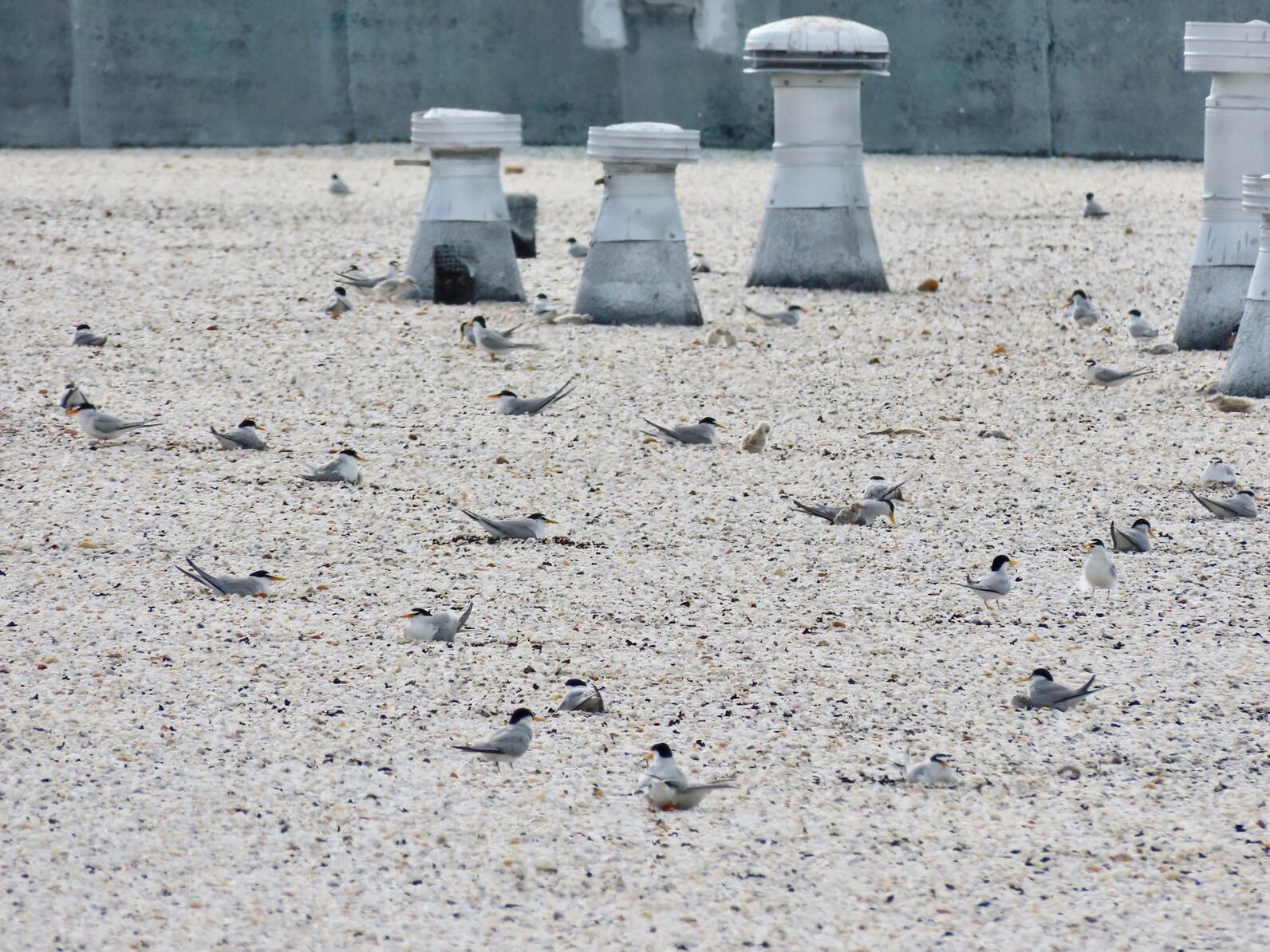 Looking to the Future
Rooftop nesting birds are resilient and inspiring. They've found alternatives to nesting on our highly developed and crowded beaches. It is astounding to see a colony of Least Terns successfully raise their young on rooftops year after year, contending with predators and losing more precious coastal habitat to re-roofing, climate change, and development.
Regardless of the pressures they face, I am optimistic for their future. It is reassuring that there are so many people rooting for them, and I am so grateful for the overwhelming support of volunteers this season. It felt as if I had a colony of volunteers just as fierce as the Least Terns to protect and conserve these wonderful birds.