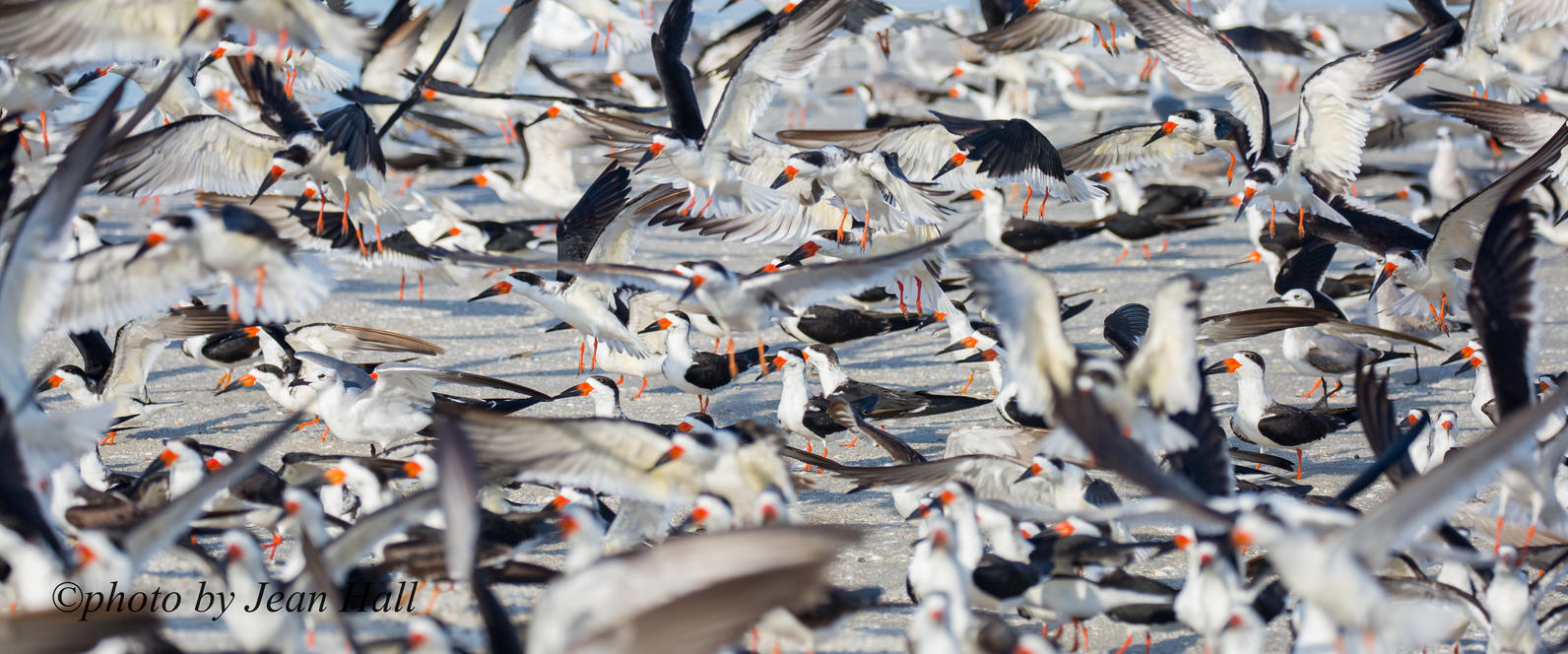 Each year, tourists and locals alike flock to Florida's beaches for the Fourth of July holiday week. Thanks to Audubon Florida staff and volunteers, they safely shared the beaches with nesting shorebirds and seabirds. Audubon Florida is happy to report that stewardship efforts will have a lasting, positive impact on this year's chicks.
Although some Audubon staff and volunteers in the Florida Panhandle met with challenges when protecting beach bird colonies as the Independence Day holiday approached, they most frequently spoke with curious beach-goers interested in understanding why the nesting areas are protected. Audubon Anchor Stewards and volunteers helped educate many beachgoers and worked to prevent dogs, pedestrians, and boaters from entering prohibited areas.
Staff worked in partnership with the Florida Fish and Wildlife Conservation Commission (FWC) to ensure the safety of these birds, especially those listed as Threatened in Florida. No losses of nests or chicks were reported at any of the sites. Additionally, Audubon staff members are working with their respective counties to plan for future municipal fireworks shows to take place farther away from major nesting sites as an extra precaution.
In Northeast Florida, the northern end of Little Talbot Island State Park has become a significant nesting area. For many years this site has struggled; the sandy peninsula is a desirable location for birds as well as the recreational public. Recent efforts from Audubon, the FWC, and the Florida Park Service have made 2019 one of the best nesting years in recent memory. Least Terns, American Oystercatchers, and Black Skimmers all nested there this season, along with Wilson's Plovers and the long-absent Gull-Billed Terns.
"Independence Day weekend, accompanied by noisy personal and municipal fireworks displays, is a trial for beach-nesting birds and their flightless chicks as well as for Audubon staff and bird stewards," said Marianne Korosy, Audubon Florida Director of Bird Conservation. "Audubon's presence at active nesting sites through this busy weekend makes all the difference in survival of the next generation of these iconic Florida birds."
To protect birds on the beaches:
Pay attention to signs and barriers and walk safely outside the roped-off sections of beach.
Keep your pups on a leash, or take them to dog-friendly designated beaches.
Notify beach stewards if you see eggs or nests outside the roped-off area.
Dispose of trash in designated receptacles to keep the beaches clean.
If you see a beach steward, ask questions! We love talking about Florida's native bird species.
If you are interested in becoming a beach steward or participating in coastal conservation volunteer activities, please send an email with your name, telephone number, and general location to flconservation@audubon.org.